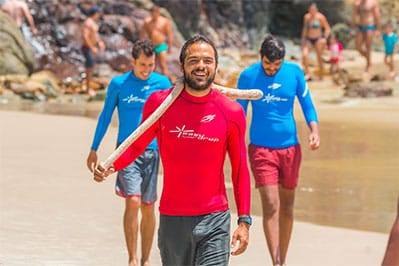 Fred has that easy manner who made surfing his lifestyle. He fell in love with the sport at the age of 7, when he moved to Itacaré and won a surfing board from his father. He surfed throughout his childhood and adolescence, competing in local championships until he was 18 years old. He started as a cameraman at EasyDrop at the age of 17, where he had his first contact with surf teaching. Also to be an instructor since 2005, he is a championship judge trained by the Bahia Surfing Federation.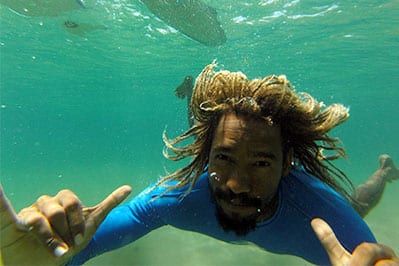 Known for his unmistakable style and the playlists that make the crowd go wild, Junio dos Santos started surfing at the age of 10, and, since then, the sport has become his life. Born and raised in Itacaré, he participated in championships from 12 to 19 years old and became a surf teaching specialist at EasyDrop in 2012. His main values are humility and dedication, and his greatest gratitude is to see the smile on the students' faces.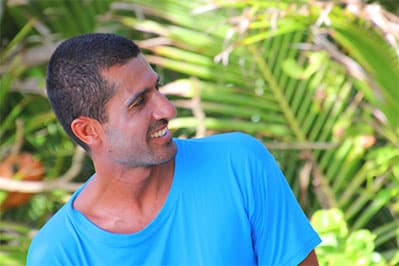 Itacarense from the ground up, Thiago Setúbal grew up having the paradisiacal beaches of the city as his backyard. Passionate about the sea, he practices various water sports, such as sport fishing and diving. But it was surfing that became his great passion, profession, and lifestyle from an early age. In 2006, Thiago joined the EasyDrop team. Today, with almost 15 years of experience in teaching surfing, he is a partner and manager of the school's operational team. Thiago is certified by Surfing Australia Inc. level 1 and 2 surf instructor (ISA), has certification in water rescue, and is a judge by the Bahia Surfing Federation.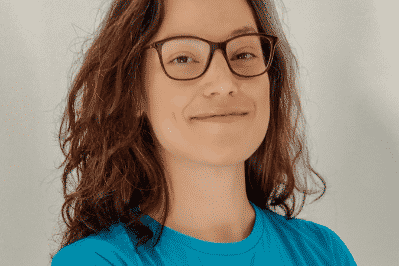 "Paulistana" based in Itacaré, Thiciana Galvão is one of the oldest members of the team, being part of EasyDrop since 2009. Graduated in Communication, she has worked in many departments of the school and knows every detail and each procedure of EasyDrop, a real Swiss Army knife. She is currently responsible for the customer service department - if you have any questions, you already know who to call, right?
Born in São Paulo and from Bahia by heart, Nígia has been living in Itacaré since 2004 — she came searching for forró and discovered the surfing world. She started her story at EasyDrop as a photographer and today she is a partner and financial manager of the company. Known for her friendliness, she is always ready to help and chat with students after the classes.